The 2020 International Green Building Materials (Shanghai) Expo (2020ESBuild) officially is held on July 15. 2020ESBuild takes the concept of "providing a comprehensive solution for green buildings" as its concept, and launches the interoperability and integration of six major sectors, covering building energy conservation, prefabricated buildings and parts, interior and exterior wall systems, interior decoration, comfort systems, and green building supply chains. It involves supply chain platform and supervision, prefabricated decoration technology, integration of thermal insulation and decoration, integrated wall and wall, HVAC and fresh air equipment and other related content.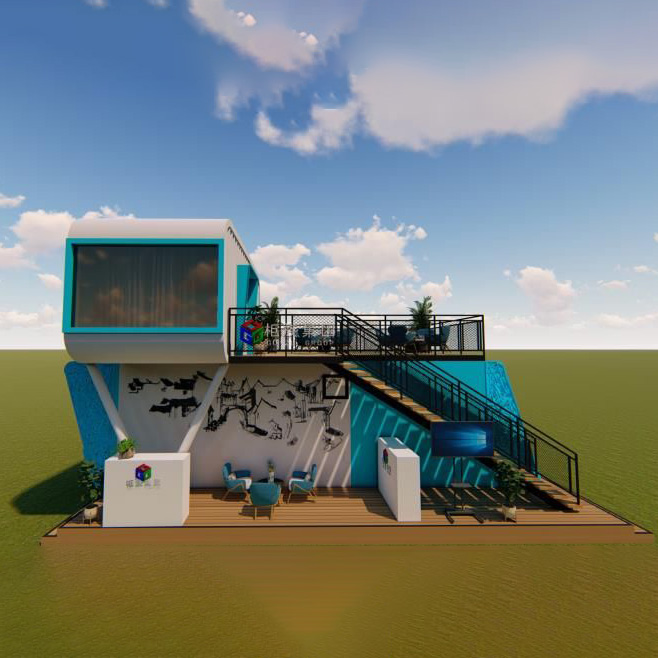 The product exhibited by GUIZU this time is an ocean-style container villa with blue and white as the main color, incorporating water and wave elements. The design concept of the product is environmental protection, comfort, and residence. The starting point is not to damage the site and the natural environment. The entire product is prefabricated in the factory. The ground is raised by 3 steps, which effectively isolates the moisture on the ground. The box's focus point is supported by a column, and the base disc increases the force area and overall balance. The box is divided into two modules on the first and second floors. It is loaded and unloaded and transported by cranes and flatbed trucks. It can be placed directly on the selected flat ground for check-in and use.
In terms of functional layout, living on the first floor and leisure on the second floor. The large floor-to-ceiling windows are designed for resorts such as beaches and seasides with beautiful scenery. The indoor life is warm and petty, and the outdoor scenery is pleasing to the eye, intoxicating and infinitely fun.
The outdoor staircase leads to the second floor. It is relatively independent and well separated from the living and life of the owner. The balcony and tea room are good places to drink tea and chat. The decoration is elegant and the lighting is soft. In cool weather, you can see farther from the heights. The scenery is more refreshing.
At the exhibition site, the fresh and beautiful appearance and smooth design of the exhibits attracted the interest of many audiences and media, and they were also favored by many media. The organizers of the exhibition, from the media, Central Finance, Shanghai Finance, and a TV station in Guangzhou, successively conducted exclusive interviews with the executive president of GUIZU and the head of the Shanghai regional company, focusing on industry characteristics, product competitive advantages, design and research capabilities, Interviews were conducted on brand strength, government support policies for enterprises under the epidemic, exhibition purpose, and corporate social responsibility.
We believe that through this exhibition, the relationship between the cabinet family and the customer has gone further, and the fit with the user's needs has reached a deeper level. We will continue to explore better products and better services, create value with products, and achieve mutual achievement with customers.